Home > Products > Radiation Measurement > Whole Body Counter > RAD IQTM WBC
Mobile Whole Body Counter
RAD IQ™ MWBC is a mobile whole body counter vehicle which is designed to accommodate WBC, portal radiation monitor, thyroid uptake system and other radiation monitoring devices and laboratory equipments for whole-body and thyroid counting and radiological analysis of samples.
MWBC is design to use for the event of an accident involving radioactive material, such as Fukushima accident, where large number of people requiring monitoring for internal contamination. In addition, the MWBC is also suitable to monitor radiation workers in hospitals and nuclear power plant who are located considerable distance from a fixed in vivo WBC monitoring facilities.
The light weight and small footprint of the design enable the RAD IQ™ WBC to be readily installed in small bus or truck. The compact design features not only make it cost effective but also provide great maneuverability and accessibility.
RAD IQ™ MWBC includes Nucare's top-line products and provides full "connectivity" among them. The products are: 1. RAD IQ™ WBC, whole body counter, 2. RAD IQ™ AP300, advance portal monitor, 3. ThyroWiz™ Wall, thyroid uptake measurement system, 4. RAD IQ™ AM100G, area radiation monitor, 5. RAD IQ™ HH100, Spectroscopic RIID unit and more.
The mobile laboratory is a great addition in analysis urine and radiation samples on site with real-time processing.
Once again, Nucare's innovative and advanced technology make it possible to integrate all necessary equipments and mobile laboratory required to monitor internal contamination of people exposed radiation in a small 7 ton truck.
Dimension
7 tons cargo truck
Size
8785(W) X 2495(D) X 2865(H) mm
Options
Awning, Rear view camera
Air suspension, AVR, UPS,
Diesel power generator(8kw),
Roof/side skirt, Level Jack, Roof stage
Cable drum, Sliding steps, Heater/Aircon
Key equipments accommodated
| | |
| --- | --- |
| Rad IQ™ WBC | Whole Body Counter |
| ThyroWiz™ Wall | Thyroid Uptake System (Wall type) |
| Rad IQ™ AP300 | Advanced Radiation Portal (10ℓ PS) |
| Rad IQ™ AM100G | Digital Area Monitor (GM tube) |
| Rad IQ™ HH100-LG | Hand-Held RIID1) (LaBr3) |
1) Radiation Isotope Identification Devices.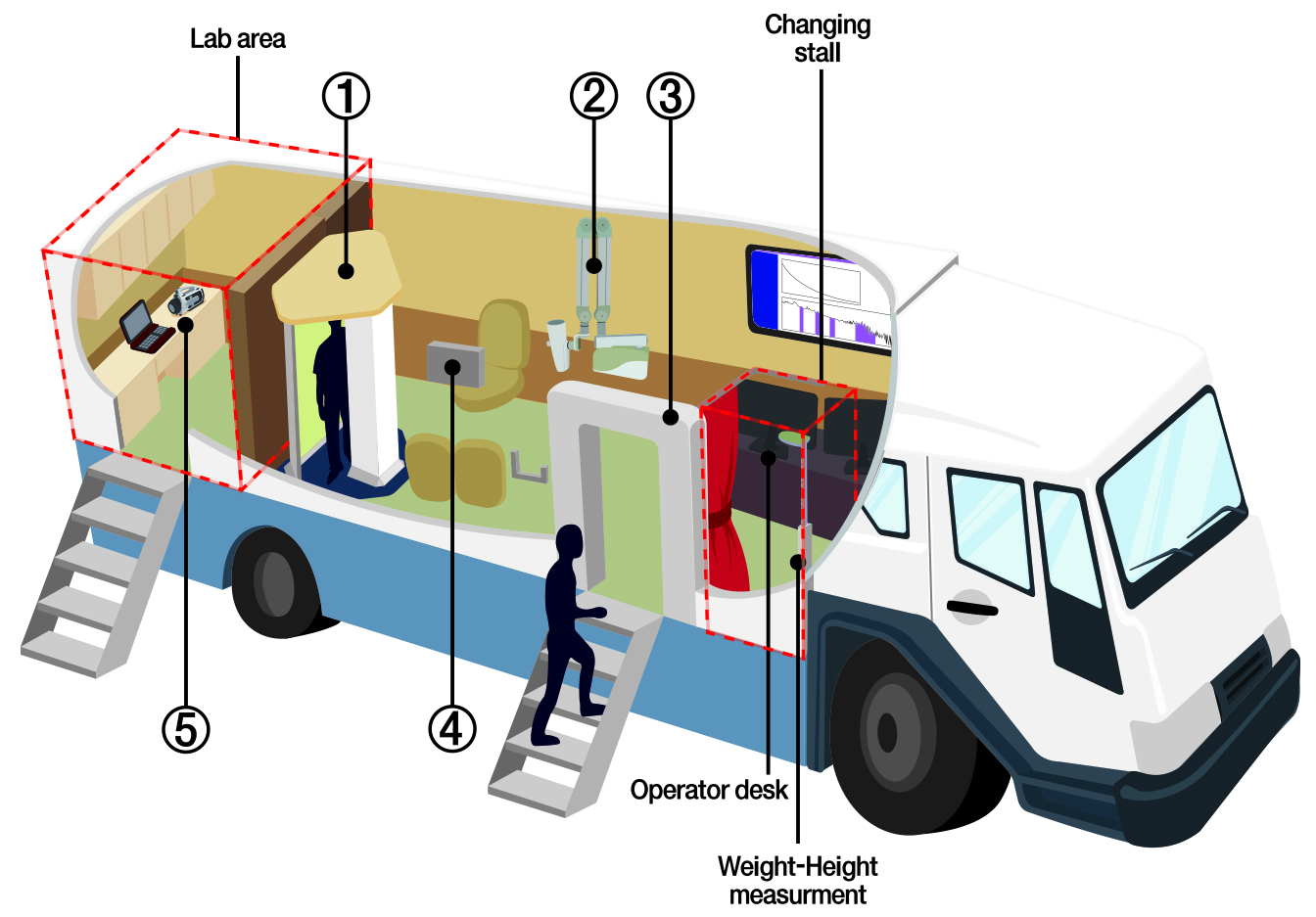 01

   RAD IQ™ WBC

Open design accommodates subjects of all shapes and sizes without performance degradation
Excellent performance achieved with two large 3x5x16 inch Nal detectors
Small footprint and lightweight ease installation even in mobile applications
One minute measurement time (typical) for high throughput
Shock absorber design to protect detectors & eletronics
Auto energy drift stabilization to compensate unstable temperture change
Detector
NaI(Tl) (3x5x16 inch), 2ea
Operating
Temperature
-15℃(5℉)~50℃(122℉)
Foot print
1175(W)×1175(D)×2060(H) mm
Weight
2,850kg(6,283lb)
Typical MDA 1)
60Co : 149 Bq (4.0 nCi),
137Cs: 224 Bq (6.1 nCi),
134Cs: 114 Bq (3.1 nCi)
Power
110 – 220 V AC (50 or 60 Hz)
Energy range
200 – 2,000 keV
Resolution
7% ± 1% @ 662keV(137Cs)
1)60 sec. measurement for standard man.
02

    Thyrowiz™wall

Easy operation and maneuverability with spring loaded arm design
Measurement of high radiation flux with optional attenuation filter 1)
Ergonomic design & Small footprint
1) Nucare patented AF(attenuation filter) technology
Detector
NaI(Tl) (2×2 inch)
MCA
12 bit 4096 channels
Energy range
20 – 2000 keV
Resolution
7% ± 1% @ 662keV(Cs-137)
Dimension
720(W)×130(D)×1050(H) mm
Weight
45kg(99lb)
Maximum
countrate
150 kcps
Maximum
arm extension
approx. 1500 mm
Calibration
137Cs 10 μCi (2.54×0.254 cm)
uncollimated
Optional items
Thyroid Phantom,
Calibration source,
Attenuation filters
03

   RAD IQ™ AP300

High sensitive portal unit for screening a contaminated person
Portable Tablet PC for display & control
Integrated local alarm enunciation
Automatic system calibration and stabilization
Detector
Plastic scintillator (5ℓ x 2ea)
Energy range
20 – 3,000 keV
Network
Communication
Bluetooth or USB
Display
Tablet PC (10.1″)
Dimension
1170(W)×130(D)×2000(H) mm
Weight
50kg(110lb)
Alarm
3way LED
Operating
Temperature
-15℃(5℉)~50℃(122℉)
04

   RAD IQ™ AM100G

Large, High Contrast LCD Display
Energy compensated GM tube
Convenient form factor
Overcharge protected battery : >12h (Li ion)
Local alphanumeric keyboard
Detector
Energy compensated
Geiger-Mueller Tube
LCD display
Graphic LCD (240×128 pixels)
LCD size(140(W)×100(H)mm)
Range
0.1 mR/h to 1 R/h (AM100G-1)
1.0 mR/h to 10 R/h (AM100G-2)
Linearity
10% of true value
Power
DC Power (standard)
PoE (option)
Display unit
uR/hr, mR/hr, R/hr, uSv/h,
mSv/hr, Sv/hr, CPS, CPM
Battery Backup
>12 hours, Li-ion (overcharge protected)
Alarm
3 level (normal, low, or high)
Weight
2kg(4.4lb)
Dimension
230(W)×180(D)×60(H)mm
05

   RAD IQ™ HH100

High performance detector (LaBr3)
ANSI N42.34 compatible
PDA based hand-held RIID
(Radiologic Isotope Identification device)
Laser/LED flash light for target identification
Automatic System Calibration and Stabilization
Database protocol for log files and alarm events
Water and Shock Resistant
Small, Convenient, Form Factor and light weight
Quantitative analysis : u-8 container sample measurement (optional)
Detector
LaBr3 (1.5×1.5 inch)
Energy range
20 – 3,000 keV
Resolution
3% ± 1% @ 662keV(137Cs)
MCA (Gamma)
12 bit 4096 channels
Operating
Temperature
-15℃(5℉)~50℃(122℉)
Communication
Bluetooth and USB
Battery Backup
8 hours (typical)
Dimension
320(W)×134(D)×188(H) mm
Weight
3 kg (6.6 lb)
Optional items
u-8 container lead shield : 40mm
Sample Vessel : u-8 container