Home > Products > Radiation Measurement > Vehicle Monitors > RAD IQTM VM100
Vehicle-based Mobile Radiation Detection System
The RAD IQ™ VMRDSis a spectroscopic mobile radiation detection system, developed for vehicle, boat and aircraft use.
The unit includes up to two 2x4x16 inch NaI(Tl) detectors and tileable solid-state neutron detectors as an option.
The standard configuration places the detector(s) and electronics in a water and shock resistant reinforced case.
Other configurations are available according to specific requirements.
The unit can be deployed on a trunk, truck bed or boat deck in a "Load and Play" fashion as wireless communication reporting events to a display unit.
It can also be used as a temporary portal for pedestrian or vehicle screening.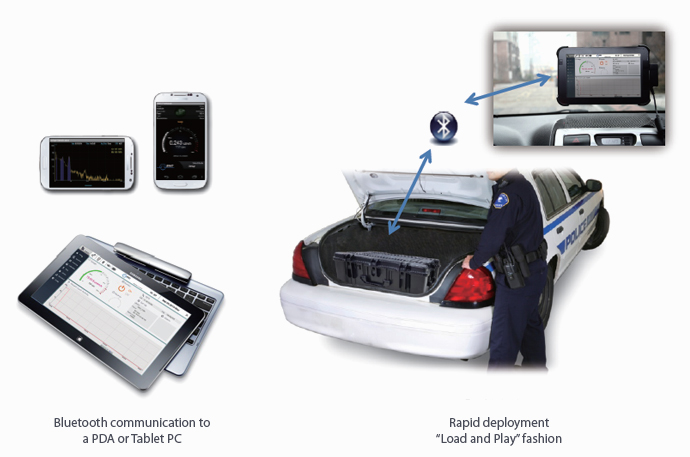 Key features

· Gamma-ray Spectroscopy for Specific Nuclide Identification
· Solid-state Neutron Detector (optional)
· Bluetooth Communication to PAD and/or Tablet PC
· Up to 8 hour operation on a single battery charge
· Automatic System Calibration and Stabilization
· Database protocol for log files and alarm events
· Water and Shock Resistant (IP 67)

Applications

· Emergency first responders
· Military marine interceptors
· Radiological Area Mapping
· Geological Radiation Survey
· Safeguard and nuclear security
The RAD IQ™ VMRDS application SW is compatible with any Windows platform.
It graphically displays details about identified isotopes and a map derived from GPS data. Alternatively, Android-based application SW, PeakAbout, can be used for smartphone.
| | |
| --- | --- |
| NORM | K40, Ra226 and daughters, Th232 and daughters |
| Medical | F18 , Cr51, Ga67, Mo99, Tc 99m, Pd103, In111, I123, I125, I131, Xe133, Sm153, Tl201 |
| Industrial | Na22, Co57, Co60, Se75, Rh106, I132, I133, Ba133, Cs134, Cs137, Eu152, Ir192, Am241 |
| SNM | U233, U235, U238, Pu239, Pu241, Np237 |
INPUT / OUTPUT
USB
Micro USB 2.0
Bluetooth
V 2.1, max 10m range (Class2)
GPS
Built-in GPS in a Tablet PC or Smartphone
PHYSICAL
Dimensions (W x D x H)
114.5 x 40.7 x 32.9(cm), 42.5″ x 13.5″ x 12″(inch)
Weight
23 kg (50.7 lb) VMRDS-2G1 model
ENVIRONMENTAL
Operating Temperature
5 to 122 F (-15 to 50 C)
Relative Humidity
10 to 80%, non condensing
Protection Rating
IP 65 (according to IEC 60529)
PERFORMANCE
Energy Resolution (Gamma)
NaI(Tl) 2x4x16 inch: > 8% @662 keV
Energy Range (Gamma)
20 keV – 3 MeV
Throughput
> 150 kcps
MCA channel
10bit 1024 channel
Dose rate range (NaI)
0 – 10 mR/h
Dose rate range (GM)
10 mR/h – 10 R/h
Stabilization
Automatic real-time stabilization using K-40
Nuclide Identification
According to ANSI N42.34, isotope/category/confidence report
Battery
> 8 hours, Lithium Ion
DETECTORS
Gamma NaI(Tl)
2x4x16 inch – Standard, 4x4x16 inch – optional, up to 2 detectors/unit
Gamma (High Dose Rate)
Geiger-Muller detector (Standard)
Neutron (optional)
Solid-state Neutron detector: 4 cm2 active area, 20% thermal neutron eff.
Gamma rejection: 1: 107, Tileable up to 20 detectors.
DISPLAY
SOFTWARE
Smartphone
Samsung Galaxy Player or equivalent
Reach-back Feature
ANSI N42.42 event data via a Tablet PC or Smartphone
Tablet PC
Any Windows compatible tablet PC
Application SW
Android based application SW for Smartphone
Windows based application SW for Tablet PC