Home > Products > Radiation Measurement > Spectroscopic Portal Monitors > RAD IQTM RS100
Radiation Monitoring Stanchion
The RAD IQ™ RS100 is a spectroscopic radiation monitoring stanchion.
It is designed to monitor pedestrians at a queuing choke point in order to identify pedestrians in the possession of radioactive material. The specific radionuclide identification capability enables threat identification (e.g. for Special Nuclear Material, SNM). The stanchion design results in a covert monitoring system so that the pedestrians are not aware that radiation monitoring is being performed. The unit may be operated wirelessly via built in wireless communication module. The integral battery provides 24 hour operation (fully charged).
The RAD IQ™ RS100 is an excellent solution for check point monitoring at airports, transportation stations and for arenas hosting special events. The radionuclide specific identification algorithm enables rapid identification of threat materials such as SNM or Radiological Dispersion Devices (RDD, "Dirty Bombs").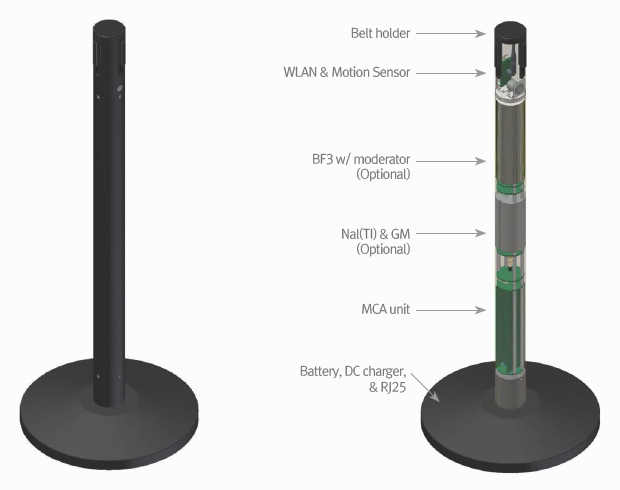 · Two Gamma-ray Detectors (for low and high count rates)
· Specific Radionuclide Identification Algorithm
· Rapid detection of Illicit Radioactive Material
· Networking Capability for Multiple Unit Management from Central Control Station
· Wired and Wireless Ethernet Communication
· Stand Alone Operation for up to 24 Hours (fully charged battery)
· Automatic System Calibration and Stabilization for robust operation
· Alarm Event Logging to the Database
· Immigration at Ports and Borders
· Infrastructure Protection
· Arena Protection (Special Events)
· Emergency Response (Assess contamination of individuals after an event)
Detector (Low Gamma)
NaI(Tl) (2×2 or 2×3 inch) 0 – 100 uSv/h
Detector (High Gamma)
GM tube 0.1 – 100 mSv/h
Energy range
20 – 3,000 keV
Resolution
6.5% ± 1% @ 662keV(Cs-137)
Dimension
360(Ø)×70(H)mm (base)
63.5(Ø)×905(H)mm (tube)
Weight
12.7kg(28lb)
Digital MCA
12 bit, 4096 channels
Operating Temperature
-15℃(5℉)~50℃(122℉)
Network
RJ-45 and WLAN Ethernet
Calibration
Automatic or Manual (Cs-137)
Power
DC and rechargeable battery
(up to 24 h)
Optional
BF3 neutron detector, Status LEDs, extendable belt,
motion sensor, hard case