Home > Products > Radiation measurement > Radiation Imaging > RAD IQTM DI1000
RAD IQTM DI1000, a gamma emission computed tomography has been developed that can identify and quantify all detectable radionuclides in waste drums.
Unlike conventional technology, it uses a 2 dimensional imaging platform which is consist of a single plate of sodium iodine scintillator detector optically coupled to 2 dimensional array of photomultipliers. This assembly is located within a heavy lead shield housing. A pinhole collimator with exchangeable pinhole tungsten insert allows only incidences from acceptable angle for image reconstruction.
The whole detector assembly is mounted on 2 axis motion tracks which enable its up/down and in/out motions. And the waste drum can be rotated on a turn table conveyer. The detector field of view (FOV) is configurable by the 2 axis detector motion tracks and a drum up to size of 200 liter can be imaged in a single FOV.
RAD IQTM DI1000 provides non-destructive assay (NDA) of radioactive waste drum like physical homogeneity, visualization of distribution of radiation, voids and cracks.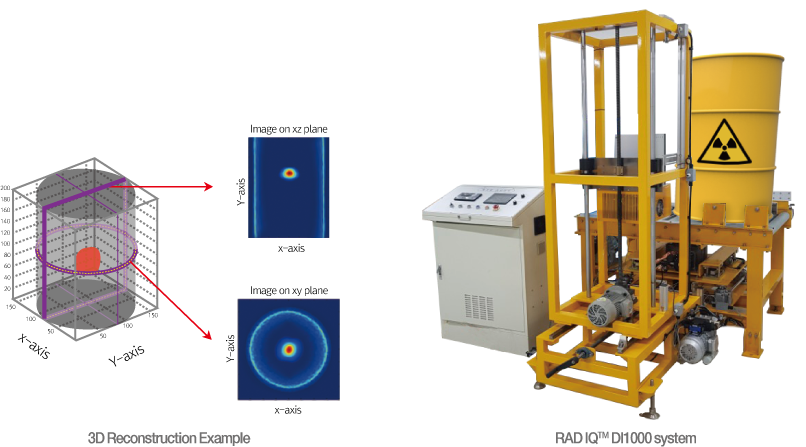 · High sensitive 2 dimensional NaI based imaging detector
· Exchangeable tungsten pinhole insert
· Large FOV (field of view) detector covers up to 200-liter drum in a single view
· Non-destructive assay of radioactive waste drum
· Visualization of distribution of radiation
· Quantify radiation detectable within a drum
System
Dimensions (W x D x H)
2,180 x 2,200 x 2,100 mm
Weight
~ 1,500kg
Voltage
380V-3PH
Detector
NaI(Tl)
276.3 x 168.3 mm
Thickness
8 mm
PMT
32ea, 1.5 in.
Lead shield
8 mm
Detector NEMA performance
FOV
230×150 mm
Energy
20 – 2000 keV
Resolution
Cs137 662keV @ 8±1%
Intrinsic Uniformity
CFOV (2, 2.5%), UFOV (2, 2.5%)
Intrinsic resolution
CFOV: 3.3mm, UFOV: 3.8 mm
Intrinsic linearity
CFOV (0.2, 0.2 mm), UFOV (0.2, 0.7 mm)
Pinhole Collimator
Dimension
327 x 253 x 130 (mm)
Thickness
30 mm
Pinhole insert (tungsten)
5mm, 10mm (typical)
Detector & Drum Motion
Detector
Height range : 0 – 1,000 mm
in/out range : 0 – 1,500 mm
Drum
Rotation range : 0°~ 360°
Rotation Speed : 0~200 mm/m
Max drum capacity : up to 200 ℓ
The application SW of RAD IQTM DI1000 consists of two parts. One covers system operational functions including detector motion handling, drum load and rotation and detector FOV adjustment. The other part covers data acquisition, data storage, image reconstruction and analysis.