Home > Applications > Emergency Response > Whole Body Counter > RAD IQTM WBC
The RAD IQ™ WBC determines whether the subject individual has ingested radioactive material (body burden) after exposure to radioactive materials due, for example, to an event. It is designed to provide high throughput with high performance and to be user friendly, both for the operator and the subjects being examined.
Our shadow shielding technology enables compact and open style system design leading children, pregnant women, and large men to be readily and conveniently accommodated.
Its light weight and small footprint of the design also the WBC to be readily installed in small spaces or in a mobile unit. The design features not only make it easy to accommodate people of all shapes and sizes but also to maintain high throughput even in heavy traffic situations.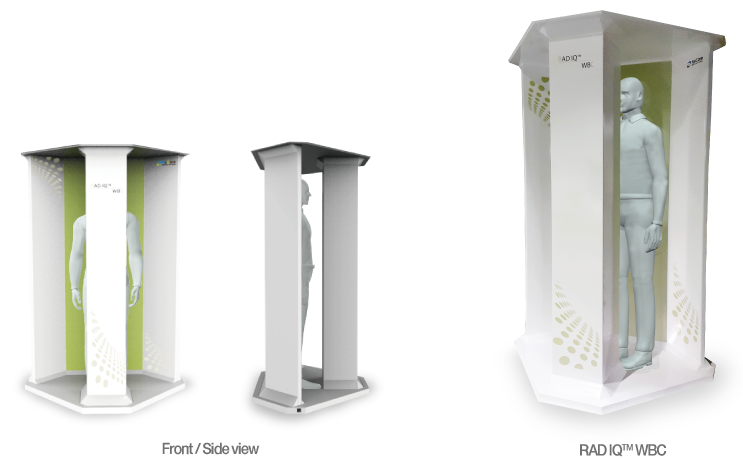 · Excellent performance achieved with two large 3x5x16 inch NaI detectors
· Small footprint and lightweight make it easy installation in mobile applications
· One minute measurement time (typical) for high throughput
· Shock absorber design to portect detectors & eletronics in harsh operational conditions
· Auto energy drift stabilization to compensate unstable temperture change
Detector
NaI(Tl) (3x5x16 inch), 2ea
Operating Temperature
-15℃(5℉)~50℃(122℉)
Foot print
1080(W)×1080(D)×2060(H) mm
Weight
2,850kg(6,283lb)
Typical MDA 1)
60Co149 Bq (4.0 nCi),
137Cs: 224 Bq (6.1 nCi),
134Cs: 114 Bq (3.1 nCi)
Power
110 – 220 V AC (50 or 60 Hz)
Energy range
200 – 2,000 keV
Resolution
110 – 220 V AC (50 or 60 Hz)
Energy range
200 – 2,000 keV
Resolution
7% ± 1% @ 662keV(Cs-137)
Transfer Phantom
Dimension
360(W) X 225(D) X 600(H) (mm)
Phantom tabel
Dimension
600(W) X 300(D) X 900(H) (mm)
(height adjustable)
1) 60 sec. measurement for standard man.
The RAD IQ™ WBC application SW provides user friendly configuration/calibration procedure and DB (database) management solutions. Precise and accurate quantitation is possible by Nucare's statistics-based signal processing algorithms.